That is the name of the semi-submersible oil rig that became stuck fast on rocks off Dalmore beach in the early hours of Monday 8 August. The structure, which weighs in at 17,000 tonnes, was being towed from Norway to Malta, and on to Turkey, broke loose from its tug and was blown ashore in galeforce winds. The tug, Alp Forward, had been experiencing problems controlling its tow for some hours beforehand.
The rig has nearly 300 tons of diesel on board, but no crew. Nobody got hurt. A debate has flared up about having an emergency tug stationed at Stornoway (ours got withdrawn 4 years ago). Meanwhile, the Coastguard have cordoned off Dalmore - its single-track access road is closed to all traffic, and appealed Nosey Nick (Johnny Public in other words) not to venture out onto the cliffs to get a sneaky peek.
The plan is to haul the Transocean Loser (as I call it) off the rocks at the next springtide, which will occur late next week. Let's hope it's a success. I hate to see lovely Dalmore defiled like this.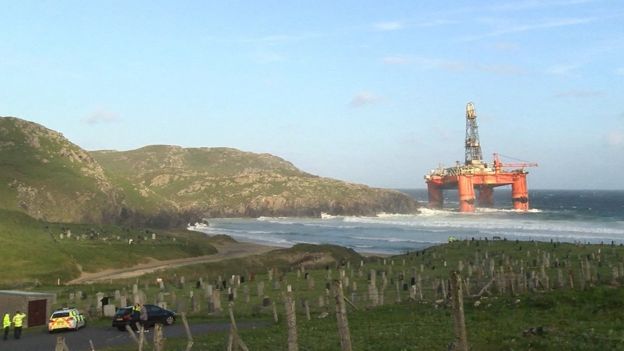 Image courtesy
BBC