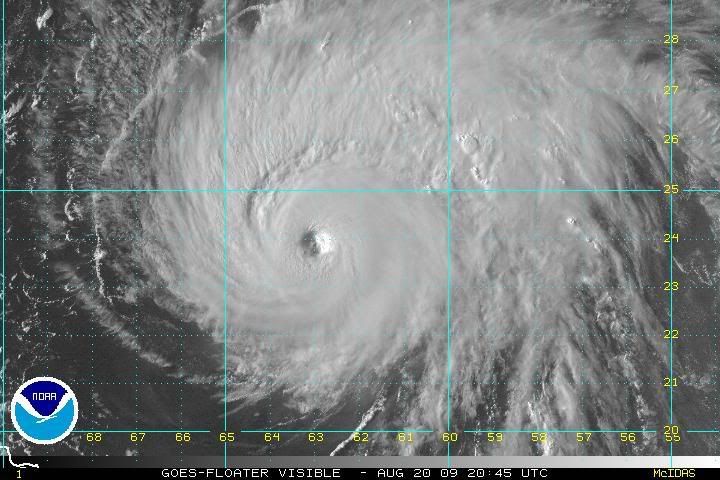 Hurricane Bill,
20 August 2009, 2045 GMT - 40 minutes ago. Winds of galeforce and higher extend a mere 260 miles / 420 km from its centre; hurricane force winds blow within 115 miles / 190 km from its centre. Bill is not likely to affect land at its current strength, winds of 135 mph, although Bermuda will feel its effects over the next day or so. The Canadian Maritimes can expect to see some of Bill's force in ameliorated form - although winds of 105 mph (offshore from Nova Scotia) are still no teaparty. Keep an eye on the NHC output and that of the
Canadian Hurricane centre.
The United States will not be directly affected by Bill, other than in the shape of extremely dangerous surf and life-threatening rip currents caused by high swell, generated by the hurricane, which will impact its
entire
eastern coastline. Please be careful when you go down the beach this weekend. Next week, Bill will come to visit Ireland and Great Britain as a vigorous depression.
For the moment, I'm content to watch from 3,500 miles away and admire the beauty in Nature's force from high above. Hurricanes are not monsters, they are a useful venting mechanism in the planet's redistribution of the sun's heat. Just keep out of their way if you can.