Today on this day during the First World War, these men from the Isle of Lewis lost their lives in the service of King and Country.
Private DONALD GRAHAM
Last address in Lewis: Outend Coll,
Son of Alexander and Annie Macleod Graham, of Out End Call, Stornoway.
Regiment or division: 2nd Canadian Field Artillery
Service number: 41793
Date of death: 16 February 1915 at the age of 28
Accidentally killed in France
Served 5 years in India.
Interred: Bois Guillaume Communal Cemetery
Memorial reference: I. B. 17A
Lewis Memorial: Back
Private DONALD MACDONALD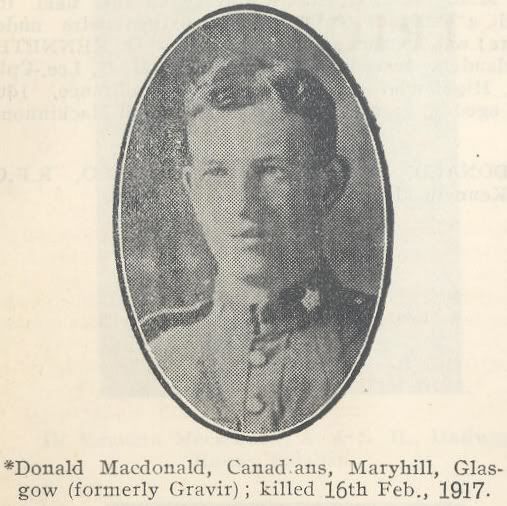 Last address in Lewis: 9 Gravir,
Son of Malcolm and Christina MacDonald, of 51, Balfour St., Glasgow, Scotland.
Regiment or division: 21st Canadian Infantry (Eastern Ontario Regiment)
Service number: 123779
Date of death: 16 February 1917 at the age of 24
Killed in action in France
Interred: Ecoivres Military Cemetery, Mont-St Eloi
Local memorial: Pairc, Kershader
Private ROBERT STEWART
Last address in Lewis: 4 Scotland Street, Stornoway
Regiment or division: Seaforth Highlanders
Date of death: 16 February 1915
Died of wounds

Local memorial: Lewis War Memorial