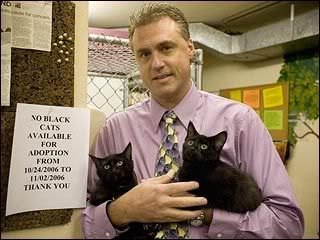 Reposted from 2010
Hallowe'en is not a tradition I grew up with, and I've only grown more familiar with it since I came to the UK, 16 years ago this month. It is a relatively inoccuous event, although I resent, like the gentleman in the pic above, the abuse of black cats just because they have black fur.

I'll just stick to the black cat as depicted in this graphic. My family had a black tomcat for 15 years in the 1970s and 1980s, and he was the friendliest creature you could care to find. Other cats, around at the time, would agree or disagree with that vehemently; other toms would get a sound thrashing out of him, whilst the females of the species got all they ever wanted out of him and more.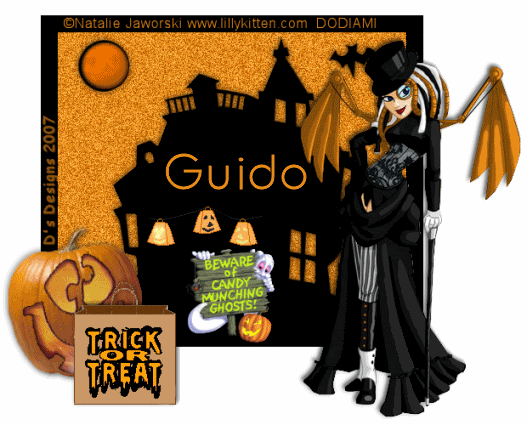 Donna provided me with this graphic 6 years ago, and I'm glad to see she's slowly getting back in the habit. She was also behind this graphic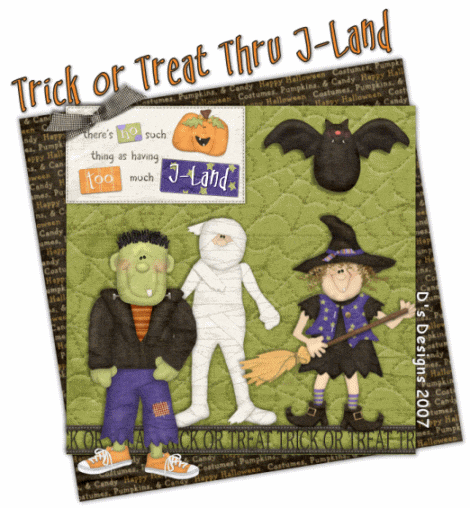 which had us trick-or-treating through J-land, meaning this image is at least 6 years old. I had two Hallowe'ens in J-land (2006 and 2007); J-land was closed down on Hallowe'en 2008. I was sitting in an airport lounge at Aberdeen when news came through that our blogs had gone. I've never understood why they had to be deleted, rather than being kept in an archived status. It caused a lot of upset, and I've not forgiven AOL for it.
Hallowe'en has a serious side to it. Its full name is All Hallows' Eve, the day before All Hallows, when we remember those that have passed away. 1 November will be the day, 5½ years ago, that my mother passed away, and I'll bear that in mind on the day. Others who have recently lost loved ones or friends will be kept in mind on that day. November is also the month that I post the links to journals whose bloggers have gone before, and I'm closing this admittedly sombre post with that.
In remembering those that went before us, we will gain strength from their memory and the fortitude they showed in adversity.
One Girl's Head Noise (UK)
- Pam, RIP 16 April 2006
There are no Sundays
- Jim, RIP April 2007
The Diatom Project
- Walt, RIP 27 April 2007
Pennie's Pieces of Ohio
- Penny, RIP 1 October 2007
My Reason for Reasoning
- Barbara, RIP 20 November 2007
Lahoma's Laments
- Lahoma, RIP 25 December 2007
I shaved my legs for this???
- Kim, RIP 26 December 2007
Sylvia Boiling
, RIP 2 May 2008
Dribble by Chuck Ferris
- Chuck, RIP 1 July 2008
Lori's Love Tribe
- Lori, RIP 22 November 2009
Just Plain Bill
, Bill, RIP 28 November 2010
A journey of another kind
, Jane, RIP 30 May 2010
Daria
, RIP 22 January 2011
Angie Marshall
, RIP 30 January 2011
Lori Johnson
, RIP 16 February 2011
Rebecca Robertson
, formerly as Journeyzpath (Summer 2011)
Say it Baldy, Sam Shafer, RIP 29 June 2011
Gypsypaths,
Carol Martinez, RIP 28 September 2011
Larry Wayland (moondawg), 2 December 2011
Frances Lawson, RIP 28 March 2012
Dad's Tomato Garden
, Ray White, RIP 9 May 2012
Andy
, RIP 15 September 2012
Dana Bate
, RIP 28 July 2013
Ally Wells, RIP 8 July 2013