19 December
On this day during the First World War, the following two men from the Isle of Lewis lost their lives: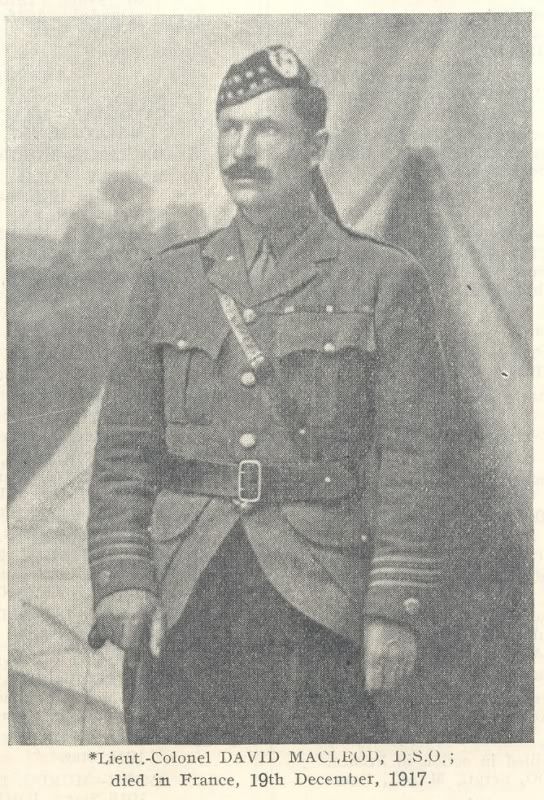 Lieutenant Colonel DAVID MACLEOD
Son of the late W. MacLeod, of Arnol, Isle of Lewis; husband of Helen MacLeod, of 15, Marina Court, Bexhill-on-Sea.
Last address in Lewis: 12 Arnol
Service, unit: 8th Battallion Gordon Highlanders
Date of death: 19 December 1917 at the age of 47
Died of pneumonia in France
Interred: Duisans British Cemetery, Etrun, V. D. 49.
Local memorial: West Side, Bragar
Medal: DSO for gallantry at the taking of the Hohenzollern Redoubt in September 1915. He was the Commanding Officer of the 8th Battallion.
Other medals: DCM Egypt 1878 and 1915 Star
Private NORMAN MATHESON
Son of Donald and Christina Matheson, of 36, Lower Barvas, Stornoway, Lewis.
Last address in Lewis: 36 Lower Barvas
Service, unit: Seaforth Highlanders, 2nd
Service number: 3/6708
Date of death: 19 December 1914 at the age of 32
Killed in action
Interred: Guards Cemetery, Windy Corner, Guinchy, grave V. A. 4.