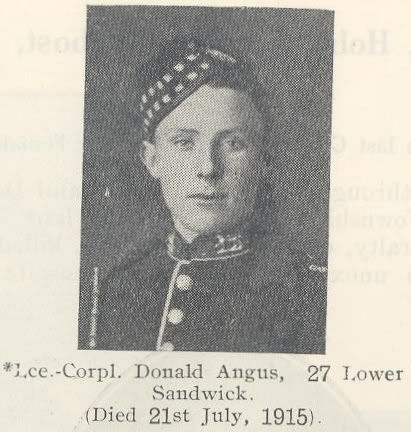 As I continue to fill in details on more of the WW1 casualties from Lewis, I was posed quite a riddle last night. And it was very sad indeed, when I found out exactly what had been going on.
The story starts on 9 October 1874, when, at 2 am, Jessie Mackenzie and her husband John (a ploughman) were delighted with the birth of their first born, a daughter, Marion. They had only been married since the previous December. Jessie and John went on to have another four children, Roderick, Donald, Mary A. and Hector. They were 1, 5, 6 and 11 years younger than Marion, according to the Census of 1891. By then, their father was marked as a crofter and fish-curer.
Marion grew up to be a fish worker in Stornoway, a common occupation for island women in the latter years of the 19th and the early part of the 20th century - and not just in Stornoway. They would go to many other Scottish fishing ports to gut herring at the phenomenal speed of 60 a minute.
Two months before her 21st birthday, on 19 August 1895, Marion gave birth to a baby boy, who was to be known as Donald. She did not register the birth until September 27th that year; and the birth register coldly refers to the baby as illegitimate, quoting no father's name.
Six years later, there is another Census (in 1901). Donald's age is quoted incorrectly as 4 (he will in fact be 6 that year). He is mentioned as a grandchild; his uncle Hector is now aged 16 and an apprentice baker. Grandfather John is working in a guano factory - which is not necessarily processing bird excrement, but is also thought to have been fish offal. Marion Mackenzie is not mentioned on the census return for 29 Lower Sandwick - but we catch up with her shortly.
The Great War starts in 1914. Donald is a lance-corporal serving with the 3rd battalion of the Gordon Highlanders when he is transferred to hospital in Aberdeen. He died on 21st July 1915, aged 19, of pulmonary tuberculosis. By then, his mother has moved to the city of Aberdeen and is quoted as living at 2, Gilcomston Terrace; she is married to a stonecutter (dry process) by the name of Alexander Miller.
Two years after the end of the war, the Stornoway Gazette published a Roll of Honour, entitled "Loyal Lewis Roll of Honour 1914-1918", in which there is a casualty at 27 Lower Sandwick. He is named as Donald Angus, and for more than three years I have run into a wall trying to find out more details on this man. Angus is not commonly used as a surname, and nobody by that name is recorded as having been born in Scotland before 1900. The Roll of Honour quoted a string of Mackenzies at 27 Lower Sandwick, and by searching for a Donald Mackenzie, dying on 21 July 1915, having served with the Gordons in WW1, I tracked down the correct casualty. The birth- and death-records of Scotland's People filled in the gaps and I'm confident that Donald Angus is Donald Mackenzie.
The erroneous entry for this man started in 1916 with the first Roll of Honour, and was copied into the second (and final) volume, published in 1921. I cannot speculate whether this mistake was linked to Donald's illegitimate status at birth.
Postscript: Marion Miller succumbed to miliary tuberculosis (widespread throughout the body) on 10 July 1932, almost exactly 17 years after her son died. Her age is quoted as 55 on the death record, but she is actually 57. She died at Aberdeen, survived by her husband.
With thanks to blogger
Direcleit
for kindly supplying the census returns and the info on the guano factory.