This is a date that is obviously still a couple of weeks away, but I am having a problem. For the past few years, I have marked this date as being the anniversary of the infamous
Night of Broken Glass [Kristallnacht]
in 1938. On that night, Nazi supporters, police and troops went on the rampage across Germany, destroying Jewish-owned property and synagogues. This was a concerted and premeditated act, laying down for all to see what Nazi Germany was all about. The burning flame, on the left of this post, is a reminder of what happened that November night. And what was to follow.
After the unspeakable atrocities of the Second World War, Germany was divided into four by the victorious allies. The British, French and American sectors became West Germany, whilst the Soviet sector was turned into East Germany, a communist state. Berlin was similarly divided. Until 1961, people from the East fled to the West in droves. A barrier was erected across Berlin in August 1961, later replaced by a high, concrete wall. Similar barriers were put up along the borders between East and West Germany. Anyone trying to flee from East to West was shot on sight, no questions asked. The advent of Mikhail Gorbatchov as leader of the USSR in the 1980s heralded a start of change. And when this wind of change blew across eastern Europe, it blew away all the communist regimes within the space of a few months in 1989.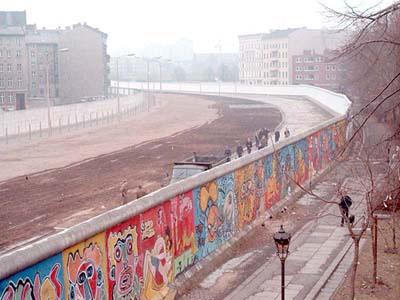 The Berlin Wall was torn down on 9 November 1989, and you can see my dilemma. Do I remember the Kristallnacht, and not celebrate the reunification of Germany? Do I celebrate the reunification, and ignore the Night of Broken Glass? Or can the two be reconciled? The city of Berlin is mounting a huge celebration on 9 November 2009, the 20th anniversary of the Fall of the Wall. I wonder if anyone will think of the Kristallnacht then. For the two are inextricably linked. The Kristallnacht heralded the start of tyranny - perhaps the end of the Berlin wall heralded the end of it. Maybe that's the way to look at it. I'll think about it. I'm not convinced.