Another cold day, but fairly bright. By the middle of the afternoon, cloud started to increase from the southwest, obscuring the sun towards sunset time, 3.40pm. That, however, did not prevent the thermometer from dipping down to -3C at 6pm, rising through the night as cloud increased to heavy rain.
Earlier, between 8.30 and 10am, a ship came into port - only to leave shortly afterwards.
MV Arrow was en-route to Uig (Skye). She is a roll-on roll-off ship, so maybe trying out the port with a view to take over from the MV Muirneag, which will go out of service in 10 months' time. I don't know. Visibility just allowed the superstructure of MV Grand Canyon to appear over the horizon, as she passed south down the Minch.
Typhoon Bopha (known in the Philippines as Pablo) has left a trail of death and destruction across Mindanao and other islands in the Philippines. Some 300 people are known to have died, and 700 are missing. Bopha was a category V typhoon, the strongest on the scale, and packed winds of 160 mph near its centre. The system is moving into the South China Sea, where it is expected to dissipate within 5 days.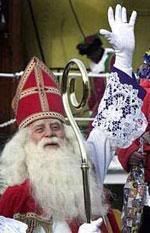 Today is the eve of St Nicholas, the original and only Santa Klaus (sorry). In Holland, Flanders and western Germany, children will have spent the past fortnight or so putting their shoe in front of the fireplace, with a carrot in it. St Nicholas rides the roofs on his white charger, surrounded by Black Peters who do the dirty work of bringing presents. During the night, they wil go down the chimney to collect the carrot and leave a present in the shoe. Children who have been bad will find a bunch of twigs, indicative of punishment. The really bad ones will be taken back to Spain in the sack.
It all starts in mid-November, when St Nicholas arrives in Holland (or one of its towns) in a steamer, well, any boat really, with his posse of Peters. The Peters go off running around, scattering sweeties amidst the assembled children. Towns not near the sea or water will see St Nicholas arriving by train. Or coach if there is no railway station. St Nicholas arrives from Spain, as that is the place where his remains lie interred. Originally, he is from Turkey, but when the Muslims came, the bones were spirited across the Mediterranean to Spain