Reasonably bright day today, with a little wind and some sunny intervals.
Here in Stornoway, the Golf Club is applying for a license to serve alcohol on Sundays. The Club says this is separate from the vexed issue of playing golf on the Sabbath. Actually, it runs a nice parallel to the current controversy over opening the Stornoway Sports Centre on Sundays. At the moment, it is closed - but you can drink yourself legless in any of the town's hostelries. So, we can look forward to having a fantastic booze-up at the Nineteenth Hole at the Golf Club, without having to tire ourselves out chopping our way around the 18 holes first.
I am already heartily fed up with the General Election campaign, even if we still have 4 weeks to go. Here in Stornoway, the election posters went up within hours of the election being called. The party faithful did not always check carefully enough where they stuck their posters - as shown in
this article
on Hebrides News.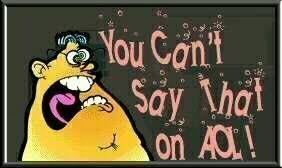 A few days ago, I highlighted (on Facebook) the fact that our friends at AOHell were planning to ditch another piece of their service: Bebo. They acquired that social networking site two years ago, but it is failing badly in the States. So, AOL is going to shut something down again (provided they are not able to find a buyer - which is pretty likely in the face of competition from Facebook and the like).