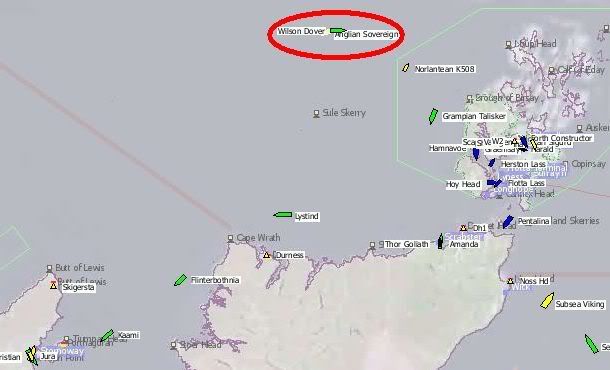 The above map has been cropped from
AIS Northern Scotland
. The MV Wilson Dover has run into mechanical problems amidst a force 9 gale and an 8 metre (27 ft) swell. The MV Anglian Sovereign is a coastguard tug, which has come to the aid of the Wilson Dover out of Kirkwall, some 45 miles to the east, trying to tow the ship to safety in Orkney. Conditions are so horrendous that to even attempt to attach a towline is proving well-nigh impossible.
STV
alerted me to the rescue. The location is some 50 miles north of Cape Wrath, the farthest point northwest in mainland Britain; approximately 100 miles northeast of Stornoway.
Today has been a wild day, and the weather is taking its time in calming down. The day dawned with a force 8 gale here in Stornoway, and conditions so poor that the early morning sailing of our ferry was cancelled. The wind is slowly subsiding, currently at force 6 with winds of 25 mph, but not out at sea it would appear.