Beautiful winter's day, with broad sunshine and reasonable temperatures. We reached a maximum of 8C / 46F. The sunset, just after 3.30pm, was colourful and stunning.
I'd like to restate my thanks to all who are supporting me at this not so easy time. I'll get over it and sort it out in due course. As they say in this part of the world, moran taing - many thanks.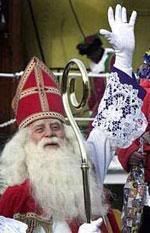 Today is the festival of Saint Nicholas, referred to as Sinterklaas in the Dutch speaking parts of the world. Several people have referred to it over the last few days, and I'll add my few pennies' worth.
Saint Nicholas was bishop of Myra, present-day Smyrna in Turkey. After his death, his remains were spirited across the Mediterranean to Spain. He is the patron-saint of children and travellers. Today, Sinterklaas arrives in a port in Holland aboard a steamship, surrounded by an entourage of Black Peters (Zwarte Pieten). They are black-skinned (long life shoe polish), a reference to the fact that Spain was occupied by Moors from North Africa, who were of a swarthy disposition.
Sinterklaas comes bearing gifts for all children in Holland, provided they have been good. Bad children will be picked up by Zwarte Piet and taken back to Spain in the big sack, which held the presents. On the evening of 5 December, Sinterklaas will take to his white charger to ride across the rooftops of Holland. He will drop presents down the chimneys, and collect a carrot for the horse, left by the children in their shoes by the fireplace. Bad children will get a faggot instead of a present, provided they're not taken away. In order to actually get a present, children will have to sing a Sinterklaas song into the fireplace.